Jump to section:


The severity of a tire puncture
How to get a tire puncture fixed
Conclusion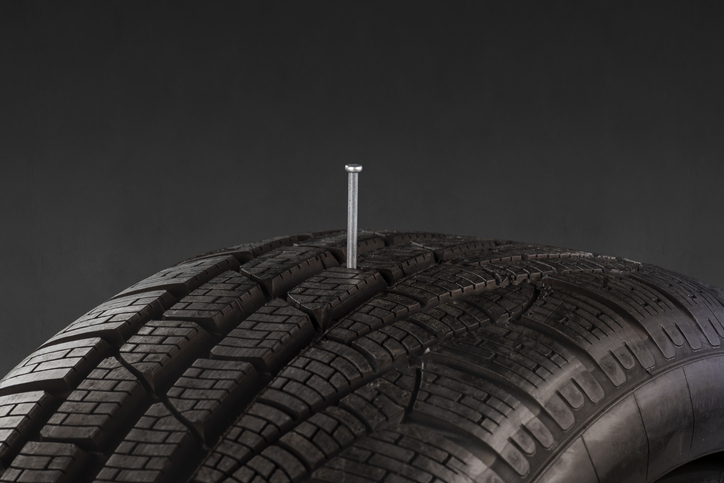 The severity of a tire puncture
A tire puncture is a problem that needs to be fixed, otherwise the affected tire will obviously eventually go flat. Unfortunately, a tire puncture can sometimes be so severe that your tire will need to be replaced entirely. The question you are likely asking yourself is, how can I tell how severe my tire puncture is?
Well, first you should know that only punctures that occur on the tread of your tire should ever get fixed. If a puncture occurs on the side of the tire, it should be replaced. You should also measure the length of the puncture. If the length across is more than a quarter of an inch, you will need to replace the tire. Finally, if an existing puncture that has been repaired once re-opens, do not get it fixed again, just replace the tire at that point.

How to get a tire puncture fixed
Getting a tire puncture fixed is quite simple. You have two choices, you can choose to fix it yourself with a tire repair kit, or you can take it to a tire repair center. The first will definitely be the cheaper of the two options but it will also be much less convenient and might not work well if you aren't experienced.
Taking your punctured tire to a tire repair center will cost a bit more, but you can be confident that the job will be done correctly by a professional. That is why we recommend that option. Typically, getting your tire repaired at a tire repair center will cost you between twenty and forty dollars depending on the provider. Just be sure that when you do take your car to a tire repair center that they take the tire off of the rim completely when they inspect the damage. This will allow them to see if any damage occurred to the inside part of the tire when it was punctured.

Conclusion
When a tire on your car gets punctured, you will need to get it fixed or replace the tire entirely. This will obviously depend on the severity of the puncture. As a rule of thumb, if the diameter of the puncture is bigger than a quarter inch or if the puncture occurs anywhere other than the tread, then you will need to get the tire replaced. In order to repair a puncture, you can buy a tire patch kit and do it yourself or you can bring your vehicle to a tire repair center. If you need a vehicle transported to Hawaii and you have some questions or simply would like a quote, give us a call today at (808) 445-6695.