Jump to section:
What cars you can go off-roading with
Where you can go off-roading in Hawaii
Tips for going off-roading in Hawaii
Conclusion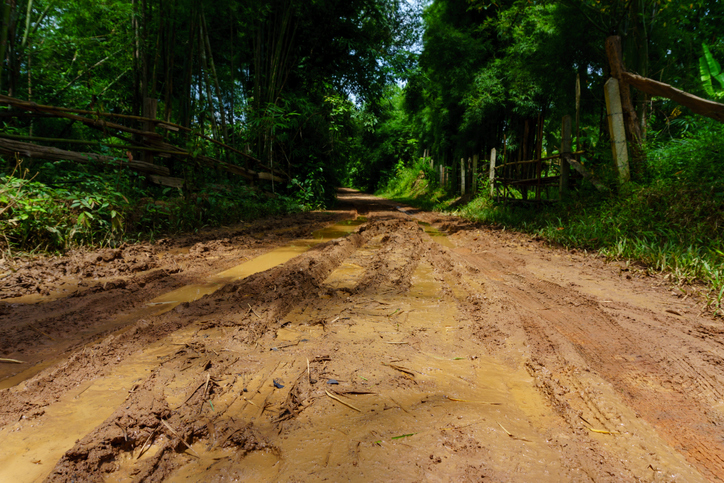 What cars you can go off-roading with
If you are going to take your car off-road in Hawaii you should be sure that your vehicle has the appropriate specifications to do so. Having car trouble on the street it is inconvenient while having car trouble off-road is much more likely to result in injury or death.
If you are planning on driving off-road your car should have the following:
Off-road tires
Four-wheel drive
Ground clearance
Limited slip differentials
There are several cars on the market that offer those specifications in spades.
The best vehicles to go off-roading with in 2019 are:
Jeep Wrangler – Long considered the undisputed king of off-road driving, the Jeep Wrangler is easily the best value on the list and is likely also the best choice overall. It has some of the most renowned traction and ground clearance in the off-roading community. The Wrangler also boasts the option of a V6 or four-cylinder engine.
Land Rover Range Rover – The Range Rover is often referred to as the "hotel on wheels" because of how incredibly luxurious the 4X4 is. It is known for is great ground clearance, capability to climb obstacles and ability to drive in almost three feet of water.
Ram 1500 Rebel – The Ram 1500 Rebel will help you get off road with some serious cargo space in tow. This truck also flaunts shock absorbers and a skid plate for all of your tough-terrain driving needs. It includes the option for a V6 or Hemi V8 engine.
Toyota 4Runner – Toyota's 4Runner is a very safe choice for off-roading with its shocks, suspension and skid plate. Over the years, the 4 Runner has become known for its durability as well as its reliability.
Nissan Armada – The Nissan Armada is a four-wheel drive with an exceptionally durable frame. It also has some of the best towing capacity on the list with the ability to tow over eight thousand pounds.
Where you can go off-roading in Hawaii
As we mentioned earlier, there are a bunch of great places to go off-roading in Hawaii. However, you should be aware that in several of these areas off-roading permits will be required.
So, if you plan on venturing out to one of these destinations, you should check first to see if there are any permits required for your particular off-road excursion. For more information, you can visit the Hawaii Division of State Parks website.
Polihale Ridge Road

A smaller and pretty narrow road on the island of Kauai, this technically isn't "off-road" but you will need a vehicle capable of off-road driving to travel on it. After about ten or fifteen minutes on the road, you will eventually arrive at Na Pali Coast beach.

This is one of the more beautiful and remote beaches in Hawaii. You won't need to worry about a crowd here. The only problem is that you won't get any help or rescue if you need it either because of how remote it is, so, be careful.


Molokai Forest Reserve Road

This is definitely a drive you will want to take slow because it is not an easy off-road drive but also because the trail has some great sights. Many report that it feels like a scene out of Jurassic Park without the dinosaurs.

Towards the end of the road/trail (many people choose to hike it, so be on the lookout for hikers!), you will arrive at the scenic Wailoku Overlook. It will, however, take you about an hour to get there because of the slow speed you will need to maintain on your way there.

Mauna Loa Observatory

Once again, this is another drive that technically is not "off-road" but might as well be. The stretch of road leading up to the observatory is almost eighteen miles long. It is not a particularly difficult drive with a couple of curves and twists, but the main catch is the elevation.

This is one of the highest roads in the world and the ascent is pretty steep as well. The road itself is in pretty bad condition which is why we decided to include it on this list of places to off-road. In fact, it is recommended that those with breathing or heart issues not make the trip because of the altitude increase along the drive.

The drive ends with the actual Mauna Loa Observatory which is one of the most unique atmospheric research facilities in the world. This is because they get some of the purest, most un-adulterated data about the atmosphere here due to the lack of interference from people, animals and trees.


Munro Trail

A one lane wide trail for most of the almost thirteen-mile journey, Munro Trail might be the best off-road experience that you can have in Hawaii. That is because the trail stretches through the lush green rainforest and up through several scenic overlooks over the ocean where, at certain points, you will be able to see other Hawaiian Islands.

The trail is on the island of Lanai and is not too difficult to traverse if you have some experience with off-roading and the proper vehicle, of course.


Polipoli Access Road

The Polipoli Access Road is another off-road excursion for only the experienced off-road drivers. There are many potholes and there are typically several downed trees, but the trek is well worth it. It is a really breathtaking rain forest experience.

It can be pretty windy at times so be sure to drive with caution throughout the seven-mile journey.


Skyline Switchback

Scenic views and pretty flowers are top highlights of Hawaii's Skyline Switchback. The trail has several types of terrain including rock and dirt. Be careful when you are driving it – there are no guard rails on the higher parts of the trail.

Be on the lookout for grazing cows while driving on this trail. Hitting one can set you back several thousand dollars.


Green Sand Beach

Green Sand Beach features magnificent views from it's infamous cliff. In certain areas, the sand will actually appear to be green. It is quite a sight to see.

The drive will take a little less than two hours. Be on the lookout for hikers while driving.


Ainapo Trail

The Ainapo trail is a dirt road that is not well maintained. It is fairly difficult to drive on, so be sure you have a vehicle that has the ability to make the trip. A four by four is highly recommended.
There is no permit required but there is a gate with a lock on it so you will need to call Kapapala Ranch at 808-928-8403 for the combination.

This trail is perfect for off-roading enthusiasts and has great access to some really eye-catching Hawaiian forest.


Mauna Kea Access Road

A fifteen-mile drive, Mauna Kea Access Road is one of the toughest drives in all of Hawaii. It is worth it though. At the summit, there are legendary views of the island as well as one of the best views of a sunset you will ever see.

It is also one of the highest roads in the world. So, if you have breathing or heart issue, this is not the trip for you.


Poamoho Hele Loa Road

Driving on Poamoho Hele Loa Road requires that you get a permit but it is well worth the ten or so day wait. You must also have a four by four in order to drive this trail. Be ready for a fairly difficult and, possibly, muddy drive.

The off-roading leads to a hiking only trails that many will swear has the best views in all of Hawaii.


Mokuleia Firebreak Road (Mauka)

The lead in to the best forest reserves in Hawaii, Mokuleia Firebreak Road is an off-road excursion you won't want to miss. This is a great spot for pictures as well as bird-watching. The road is entirely made of dirt so be prepared to get a car wash once your trip is over.

You will need a permit so be sure to look into that.
Tips for going off-roading in Hawaii
Stop and check out the obstacle first – Before you try and traverse a pile of large rocks or a downed tree, be sure to get out of your vehicle and take a closer look. Doing so might help you avoid flat tires or other damage to your car.
Keep your thumbs off of the inside of the steering wheel – Be sure that you keep your thumbs on the outside of the steering wheel. If you hit a bump (which you will pretty regularly), you could injure your thumbs pretty easily if they are on the inside of the steering wheel.
Use a lower gear – Keep your revolutions per minute low. You will only need to crank this up if you have an obstacle to get over.
Take it slow – Driving slowly will give you more time to react to obstacles in the road. It will also decrease the chance of an accident.
Conclusion
Off-roading is one of the best ways to see and experience all that Hawaii's natural beauty has to offer.
You won't want to attempt this in a rental car either. That could end up costing you a bunch of money. Ship your car to Hawaii and off-road the right way.