Jump to section:
Maintaining your lane and your speed
Maximizing visibility and staying visible
Conclusion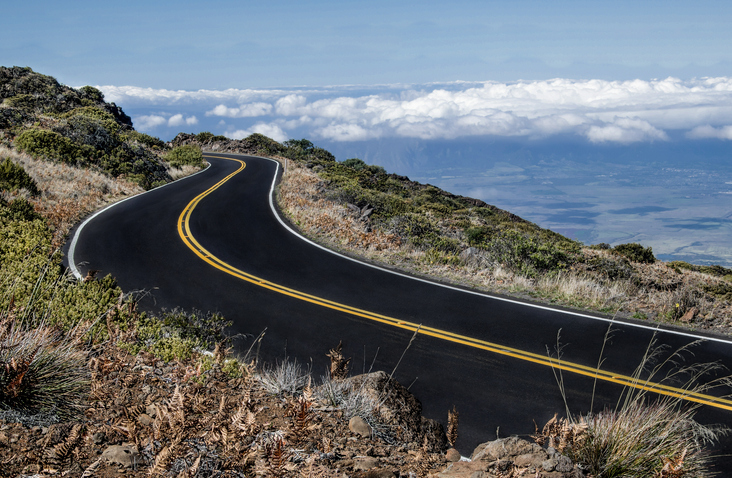 Maintaining your lane and your speed
In Hawaii, you will need to deal with some blind curves if you ever end up driving near the mountainous portions of any of the island. Typically, if you do something potentially dangerous when driving like failing to maintain your lane, oncoming drivers will easily be able to see this and can easily avoid a collision because they will have ample driving time. When you are driving around a blind curve, the opposite is the case. Oncoming drivers will not be able to see you at all and will have very little to no reaction time as a result.
This is why it is so important, not only to maintain your lane but also to reduce your speed as much as possible when you both approach and drive around a blind curve. Maintaining your lane will go a long way to preventing any possibility of a collision while reducing your speed will maximize both your reaction time as well as the reaction time of any oncoming drivers. Reducing your speed will also prevent you from any loss of control over the car as you drive around the curve, which could be disastrous.

Maximizing visibility and staying visible
In addition to maximizing your reaction time, you should maximize both your visibility as well as your ability to be seen. This is still important during the day but is even more important at night when navigating a blind curve. You should always turn your headlights on when approaching a blind curve but never your high beams. Your headlights will make you instantly more noticeable without impacting any oncoming driver's ability to see, while high beams could potentially blind an oncoming driver.
You should also ensure that your windshield is not too fogged up. If it is too foggy during your approach to a blind curve, put your defoggers on and pull over if possible until the windshield has been successfully defogged. If you are approaching a blind curve and a bright sun is obstructing your view at least partially, use your sun visor to block some or all of it. Finally, if it is raining, make sure that your wiper blades are turned on and at the correct speed relative to how hard it is raining.

Conclusion
Driving around a blind curve in Hawaii can be a dangerous proposition. This is because, at least for a moment, you will not know whether there is oncoming car, motorcycle or truck around the corner barreling towards you at potentially high and unsafe speeds. In order to protect yourself as well as any oncoming drivers, be sure to reduce your speed as much as possible, maintain your lane, have your headlights on and do whatever else you can to increase your ability to see when you are driving around a blind curve. If you have any questions about shipping a car or any other type of vehicle to Hawaii, feel free to give us a call anytime at (808) 445-6695.