Jump to section:


Which cars qualify for compact spots?
Where will I find compact spots
Conclusion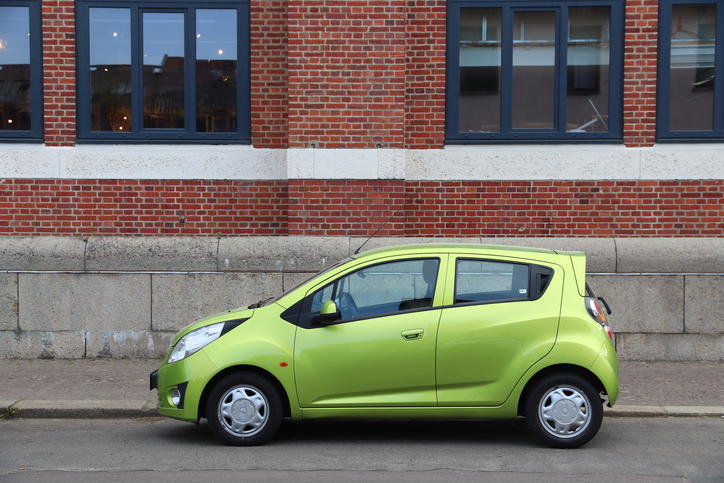 Which cars qualify for compact spots?
Compact parking spaces help businesses create extra parking spots in their lots. Think of it this way, if every spot was large enough to accommodate every vehicle up to and including the largest ones, space would be lost for every spot where a small vehicle parked. When compact spots are added to the equation, cars will park according to their size. When you create enough compact spaces, the extra space saved adds up. As a result, a business can squeeze out a few extra spots in their lots.
Typically, compact spots are about eight feet in width whereas regular parking spots are about 9 feet in width. In order to be considered small enough to use a compact space, a vehicle must have enough room on both sides for the doors to open without contacting the cars on either side of you. In most cases, use common sense when it comes to your car and compact spots. If you drive a truck or SUV, your vehicle will never be "compact". If you drive a Prius, your car is smaller than most vehicles on the road, so it is compact. If you park in a compact spot with a non-compact car, you can get a ticket which can run between twenty-five and a hundred dollars depending on where you are.

Where will I find compact spots
Compact parking spaces are usually located at the front of regular parking lots near handicapped and electric vehicle charging spaces. In parking garages, you can likely find them on the lowest or any level. Regardless of where exactly they are, they will be clearly marked with signage and or the painted word "COMPACT". If you cannot find them, you can always ask someone who works in the particular business that you are parking at and ask them. Keep in mind, not all parking lots will have compact parking spaces. You can also use certain parking apps and set a filter for compact parking to help you find compact spaces.

Conclusion
Compact parking spaces help businesses maximize the amount of parking available in their lots as well as to decrease overall congestion in the lots during busier times of the day. These spots are typically ten to fifteen percent smaller than a regular parking spot. So, if you do not have a compact car or are unsure that your car could qualify to park in one of these spaces, move on because you could end up with a costly ticket just as you would if you parked in a spot for handicapped persons.