Jump to section:
A donut is only a temporary solution
Permanent solutions for your tire
Conclusion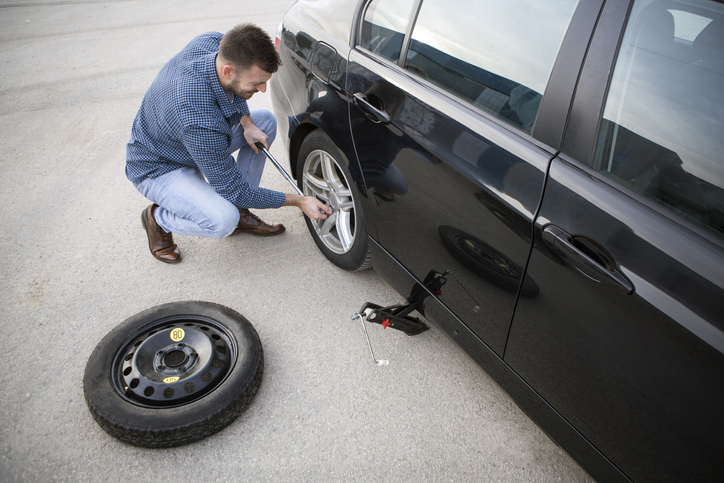 A donut is only a temporary solution
If your tire goes flat and you need to drive on a donut you should be aware that doing so is only a stop-gap solution until you can get your tire repaired or get a new tire. Typically, you can only drive up to a hundred miles on a donut, at the very most. If you want to play it safe, you should not drive more than seventy miles on a donut.
You also should not drive too fast on a donut. Do not go over fifty miles an hour while you are driving with a donut on. Finally, avoid any hasty maneuvering while you are using a donut on your vehicle. If you do exceed these limits, your donut could go flat or blow out which will leave you with no options other than to get towed and or call AAA.

Permanent solutions for your tire
As we said, the only permanent solutions for your tire are getting it repaired or buying a new or used tire to replace the last one. Getting your tire repaired will ultimately be the cheaper option. However, a repaired or patched tire will quite likely not last as long as a new or used replacement.
So, you should weigh the risk to benefit by considering how frequently you drive as well as how far you drive. If you do drive frequently and longer distances when you do, a repaired tire might not last that long. In that case you should just get a replacement tire because getting a tire repaired several times could end up costing more than just replacing it in the first place.

Conclusion
When you are put in a situation where you must drive on a donut, do so at an absolute minimum. Your donut is only meant for a maximum of one hundred miles of driving. Any more driving than that on a donut and it could blow out or go flat too, leaving you stranded. Make sure you get the tire in question repaired or replaced as soon as possible. If you need any time of vehicle large or small, transported to Hawaii give Hawaii Car Transport a call at (808) 445-6695.