Jump to section:
What to do when your car gets scratched
How to avoid scratches on your vehicle
Final word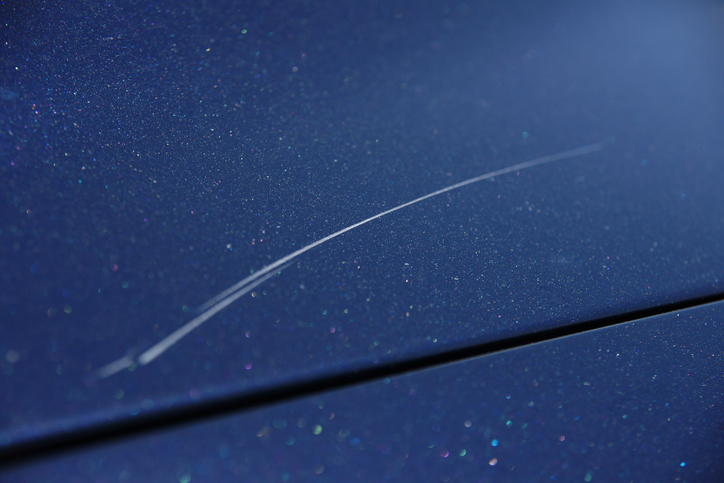 What to do when your car gets scratched
When you get a scratch on your car, the overall look and value can easily diminish a notable amount depending on the severity and location of the scratch. That is why you need to get the scratch repaired. However, many people think that they can wait and do that whenever they want. That is actually not the case because waiting to get a scratch repaired can actually lead to further damage. This is because when your car gets scratched, the clear coating that protects the paint gets removed and then that area is much more susceptible to rust.
Another mistake people make is they try and fix the scratch with touch up paint themselves. The problem with this is that there is a specific process that, if not done correctly, could lead to visible dirt being trapped underneath the touch up paint and/or an uneven look. That is precisely why you should take your car into the auto body shop as soon as you get any scratches.

How to avoid scratches on your vehicle
An even better option than getting any scratches on your vehicle repaired right away would be to avoid getting any scratches altogether. This obviously is not always possible as sometimes it will be completely out of your power. However, there are a few simple things you can do to avoid getting any scratches on your car in Hawaii.
First, you should always make sure you park where there is more than enough space next to you for other drivers not to scratch your car by opening their own doors. Next, you should consider skipping driving on dirt or gravel roads. Micro debris such as pebbles can kick up and scratch your car when you do drive on these types of roads. Also, do not park in or near heavily wooded areas because small branches that you might not be able to see as you drive past them can easily cause a scratch. Finally, whenever you can, take the opportunity to park your car in a garage.

Final word
Getting a scratch on your car is not the end of the world but it can lower the value and overall look of your vehicle. If you do not get a scratch repaired in a timely enough manner, rust can occur as a result. So, when you do get a scratch or scratches on your car get it repaired right away and do so by taking it to a body shop not by touching it up yourself. Finally, the best way to get a scratch fixed is by not getting any scratches in the first place so do whatever you can to avoid them.