Jump to section:
Classic cars and the Hawaiian backdrop
Advice for taking care of your classic car in Hawaii
Getting an existing classic car to Hawaii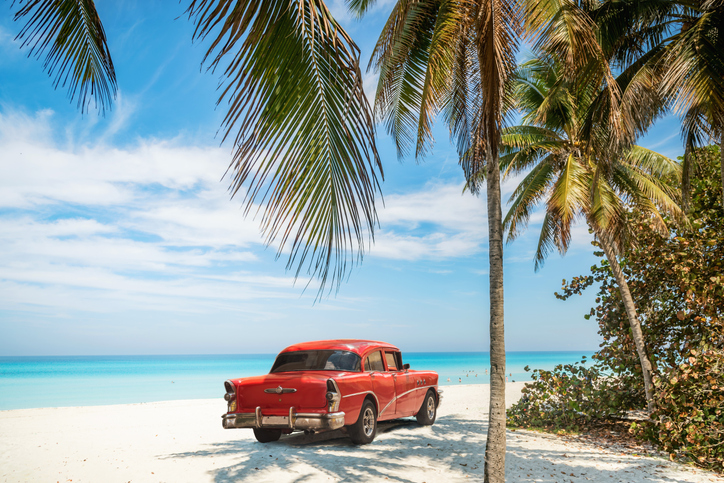 Classic cars and the Hawaiian backdrop
Hawaii is a fantastic place to show off your classic car. The weather is usually perfect or close and the beautiful tropical landscape with lush mountains, palm trees and beaches make for a great picture taking opportunity with the car.
Many classic car owners and enthusiasts take a lot of pride in their rides and not everyone will get the chance to see their cars when they take them out for a ride. So, pictures are important for showing a classic car off. When it comes to a car picture the backdrop can make a significant impact. Most classic car pictures that you will see have been taken in train station or mall parking lots which can serve as a beautiful juxtaposition for a classic ride but do not compliment it well.
However, there are some pictures that you will come across where a classic car such as corvette will have a beautiful backdrop such as a gorgeous mountain ride. Hawaii has multiple options for incredible backgrounds for your classic car photos. You can take it to the beach in some spots and have the ocean in the background, you can park in front of some palm trees and snap a few photos, you can even get some pictures taken of you driving it around a lush mountain ridge.

Advice for taking care of your classic car in Hawaii
Unfortunately, there are some unique challenges to having a classic car in Hawaii. This mostly pertains to parking as well as inclement weather. In terms of parking in Hawaii, the streets can get crowded with cars. Parking can be scarce. Even if you do find a spot, you could be risking a scratch. You are better off keeping your classic ride close to home or away from crowded areas where parking is hard to come by such as Honolulu.
Inclement weather can damage your classic car both in the short term and long term. You should get your car waxed so that rain has a minimal effect on your cars finish. You should also consider keeping your car in a garage or covered. This is because the sun in Hawaii is quite strong and can slowly cause damage to the paint and finish. A phenomenon called "salt air" can do the same but much more rapidly. With salt air, the wind picks up condensation from the ocean and blows it inland. Some of this can stick to your car and quickly start corroding the finish.

Getting an existing classic car to Hawaii
If you want to get your classic car to Hawaii in order to take advantage of the photo opportunities or you just want to cruise around with the top down and enjoy the beautiful sights and weather, there is only one way for you to do that. You will have to ship your car to Hawaii. Fortunately, doing so is incredibly easy.
All you will have to do is choose a company, book your shipment, prepare for your shipment, make sure that someone is there for the pickup of your cars with your keys, and that you pick the car up at the port in Hawaii when it is dropped off there. You can call us today to learn more or to book your shipment at (808) 445-6695!