Jump to section:


Approaching a speed bump
As you drive over a speed bump
Conclusion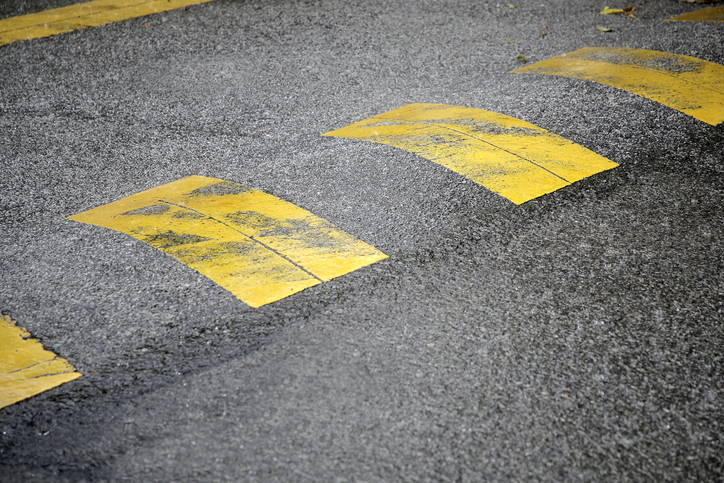 Approaching a speed bump
Speed bumps are an important part of keeping certain roads and areas safe from speeding where pedestrian traffic will be high. More often than not you will find speed bumps in places where there are high volumes of children and/or the disabled and infirmed. A few examples of where you might find speed bumps are the surrounding roads and parking lots of schools and hospitals. However, you also might find speed bumps in areas where excessive speed has been a problem and ticketing offenders has not resolved the issue.
Regardless of the reason that a speed bump is on a road or in a parking lot, you will need to take caution as you approach it and as you pass over it. If you do not you risk serious damage to your car. The damage that could occur to your vehicle if you pass over a speed bump too fast can include fluid leaks, damage to your shocks, and damage to your wheels.
Preventing any damage from occurring when you drive over a speed bump will begin when you first notice the speed bump and begin to approach it. As soon as you notice a speed bump you should decrease your speed to five miles per hour. It is not even uncommon to come to a stop and then roll over a speed bump at slightly less than five miles per hour either. You should also be sure that you and any passengers in your vehicle have their seatbelts on because there will still be a physical jolt when you do drive over the speed bump.

As you drive over a speed bump
As we mentioned above, your speed should never be above five miles per hour when you pass over a speed bump. However, you must also pay close attention to your surroundings as you drive over a speed bump. Speed bumps are there for a reason so there is a good chance there can be pedestrians in close proximity. You also should be on the lookout for additional speed bumps. Speed bumps are often set up in pairs or more. This is done to eliminate speeding for an extended distance in a particular area.

Conclusion
Driving over a speed bump is fairly simply as long as you take to the correct care in doing so. Make sure that you and your passengers all have your seatbelts on as you approach the speed bump. You must decrease your speed to no more than five miles per hour when you drive over. When you are driving over the speed bump, be on the lookout for pedestrians as well as additional speed bumps.