Jump to section:
How to keep your pet safe while you drive
How to drive safely with a pet in the car
Wrapping up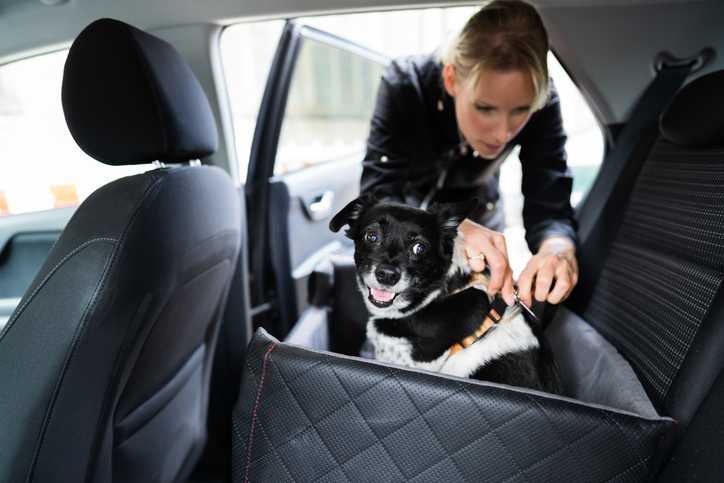 How to keep your pet safe while you drive
Driving with a pet in the car can be a challenge. Dogs and cats get hyperactive when they are nervous or when feel they are not being paid attention to. This can end up being dangerous for the both of you. You should first think about keeping your pet safe before you start driving. Then, you can worry about driving safely with much more peace of mind.
First, you should really consider a car seat or car friendly crate for your particular pet. This can help keep them from being thrown around as the car is in motion. You should also try driving around the block with them a few times in order to get them used to the car prior to taking any longer trips. If it is determined that motion sickness is an issue for your pet, talk to your veterinarian and see if there is medication that you could give to your dog or cat before trips in your vehicle. Always drive slowly and carefully with a pet in your car.

How to drive safely with a pet in the car
Being able to avoid the distractions caused by your pets when they are in the car is a huge part of keeping you both safe during any trip. They might make a lot of noise which could momentarily break your focus and that is all it takes to cause an accident which could harm you both or worse.
If at all possible, consider driving with a passenger when you are driving with a pet. The passenger can take the reigns of caring for the pet and keeping them calm while you are driving. Also, you should always keep the pet in the back seat with some sort of a divider if necessary. This will completely eliminate the possibility of them jumping on you while you are in the middle of driving. If it is a longer trip, take breaks because the stress of driving with a pet in the car can build quite quickly.

Wrapping up
In the course of owning a dog or cat, there will be times when you will have to drive with them in your car. This can be quite dangerous if you do not take the right precautions. After all, you will want to be sure that you and your pet arrive at your destination safe and sound. Always keep your pet in some kind of a car seat or crate, keep them in the back seat and try to have a passenger present to care for them as you drive.