Jump to:
The basics about Hawaii Volcanoes National Park
How to get there
What to see when you are there
Tips for enjoying Hawaii Volcanoes National Park
Conclusion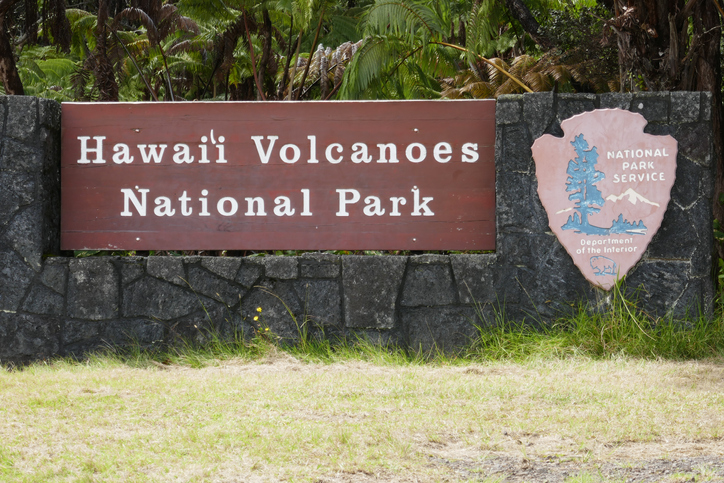 The basics about Hawaii Volcanoes National Park
Hawaii Volcanoes National Park is a national park in Hawaii with two Volcanoes, one of which is currently one of the most active volcanoes in the world. In fact, just about a year ago in May 2018, extremely high levels of volcanic and seismic activity of the Kīlauea volcano led to high levels of lava flowing on land for the rest of the summer in the southeast part of the park.
As a result, the park was closed for a while and some of the attractions in the park still remain closed. However, many of the attractions in the park are now open again.
The park itself is open every day of the year, twenty-four hours a day. The weather there is dependent on where you are in the park. Most of the park has weather that is similar to the rest of the island. However, the summit of the volcanoes can typically have temperatures that are actually about ten degrees cooler than the rest of the island. There is also the area around the Chain of Craters Road which will have considerably hotter, windier and dryer weather.
The entrance fees for the park are as follows:
Private Cars – $25 (The car must have 15 people or less. The fee is for the car as a whole, not per person. Organized groups such as schools or clubs will not qualify for this rate.)
Motorcycles – $20
Bikes – $12
Per person – $12 (People choosing to walk into the park)
Groups – $12 per person (This is for any vehicle with a capacity of 16 or more. Anyone 15 or younger is free. If you have hired a driver for your group, they will likely be free too.)
How to get there
Hawaii Volcanoes National Park is located on the island of Hawaii.
The entrance to the Hawaii Volcanoes National Park is located at 1 Crater Rim Drive, Hawaii National Park, HI 96718.
You can get there from Hilo by driving forty-five minutes southwest on Highway 11. You can get there from Kailua-Kona by driving about two hours southeast on Highway 11.
You can also enter your specific address here and get directions.

What to see when you are there
As previously mentioned, some of the areas and attractions in Hawaii Volcanoes National Park are currently still closed as of April 2019. However, there are still a bunch of incredible things to check out while you are there. So much that it will likely take you a few days to get to it all.
Here are the best things to see at Hawaii Volcanoes National Park:
Kilauea Visitor Center – The Kilauea Visitor Center is the first part of the park that you should visit. Here you can learn everything else that you need to know about the rest of the park including volcano updates, what hikes and trails you can take and much more. You can even hear a few great "Ranger talks" here.
Volcano House – This is a hotel in the Hawaii Volcanoes National Park where you can stay that has a view of the Halemaumau Crater. It has four-star reviews on both Google and Trip Advisor.
Devastation Trail – This is a short, about half-mile-long, trail where you will walk across the cinder outfall of the 1959 Kīlauea eruption. Overall, it is a wonderful trail experience that you won't want to miss.
Chain of Craters Road – This is a famous road where you will take a scenic drive in with scenery that you probably never thought you would see. This road cuts right through an area in the park full of craters and hardened magma for views that almost look as if you are driving on Mars on certain points. On average, Chain of Craters road has had lava on it at some point during the year four out of every five years since it was created because of its proximity to the Kīlauea volcano.
Tips for enjoying Hawaii Volcanoes National Park
Bring an umbrella – The average precipitation in the area always ranges from forty to seventy-five percent. So, you will likely experience some rainfall while you are in the park. January and February have the lowest precipitation of any month at around forty percent.
Stay on the trail – It is very important that you always stay on the marked trails and stay out of any restricted places you might come across. There are dangerous volcanic gases in restricted areas as well as unstable land.
Watch out for cracks and falling rocks – Stay away from cracks, the useless selfie is not worth slipping into one. Cracks have unstable edges, so don't think being careful will prevent you from falling in either, just stay away. Stay away from the bottoms of mountains and cliffs as well, falling rocks occur randomly and are unpredictable.
Dress appropriately – Wear durable shoes and pants. It goes without saying but do not wear shorts and sandals. Wear steel toe boots if you can and pants that won't tear easily.
Stay in Hilo or at the Volcano House – The Volcano House is actually in the park and is a perfect place to stay. Unfortunately, it does reach capacity fairly often. So your next best option is to stay at one of the many hotels in Hilo which is only a forty five minute drive away from Hawaii Volcanoes National Park.
Conclusion
Although some parts of the park remain closed as of April 2019, there is still a bunch of really incredible and fun stuff to see and do. Be sure that you plan your trip properly so that you can see everything that you want to in an efficient manner.
Your experience at the Hawaii Volcano National Park will be a lot easier and more time-efficient if you have a car with you. If you are headed to Hawaii and are in need of vehicle shipping, give us a call for a free quote at (808) 445-6695!