Jump to section:
The risk of a car overheating in Hawaii
How can you prevent your car from overheating in Hawaii
Tips to keep your engine cool
Conclusion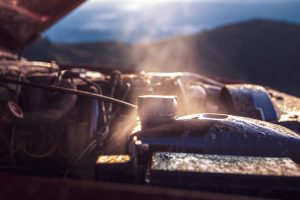 The risk of a car overheating in Hawaii
As you might expect, the risk for your car's engine overheating in an area with a much warmer climate is higher than other areas with more moderate temperatures. So, if you have an older car in Hawaii, you need to be aware that you are at a slightly higher risk of having your engine over-heat than most other car owners.
Your actual risk for your car overheating depends on a few things. The first of these factors is the age of your car. This is really the combination of all the other factors because the older a car's parts get, the more likely they will be to malfunction. The individual parts of the car that can malfunction causing the car to overheat are the coolant, the car's thermostat, and the cooling fan for the radiator. In warmer temperatures, these parts can become more strained trying to function which can, occasionally, lead to an issue occurring.

How can you prevent your car from overheating in Hawaii
The best way to deal with the possibility of your engine overheating in Hawaii is by preventing it all together. First and foremost, you will want to get your engine serviced regularly. Make sure that the mechanic checks the parts that we mentioned above. Tell them that you want to be absolutely sure that your engine does not overheat.

Tips to keep your engine cool
The obvious way to prevent your car from overheating is by keeping it cool. There are several ways that you can do this:
Keep the car in out of the heat – This likely will not make or break your car in terms of overheating, but every little bit can help. So, whenever you can, keep your car in a garage or at least in the shade.
Get your windows tinted – You can keep the temperature of the interior of your car lower by getting your windows tinted. This will not directly prevent the engine from overheating, but it will help you use the air-conditioning less which will help keep the engine cool.
Keep your eye on the engine coolant – You should make sure that you always have enough engine coolant. You can do so by checking when your engine is warm or cool. If you check when your engine is hot, the coolant should be close to the "maximum fill" line. If you check it when your engine is cold, it should be just above the "minimum fill" line.
Occasionally have the radiator flushed out – Having your radiator flushed out occasionally is how you can get your old coolant fluid, which gets dirty and does not perform as well after a while, removed and replaced with new coolant fluid.
Consider getting a new battery – Your car battery is obviously what provides power to the car. When the battery gets too old, your car needs to work considerably harder to get that power from the battery. So, if your current battery is older than a few years old, consider getting a new battery.
Conclusion
The temperatures in Hawaii are higher than most places on the planet. So, taking care of your car to ensure that it does not overheat is important. In order to do so you will need to check your engine on a consistent basis for things like your coolant level. You should also take the initiative to park in a garage or shady areas as well as to get your windows tinted.