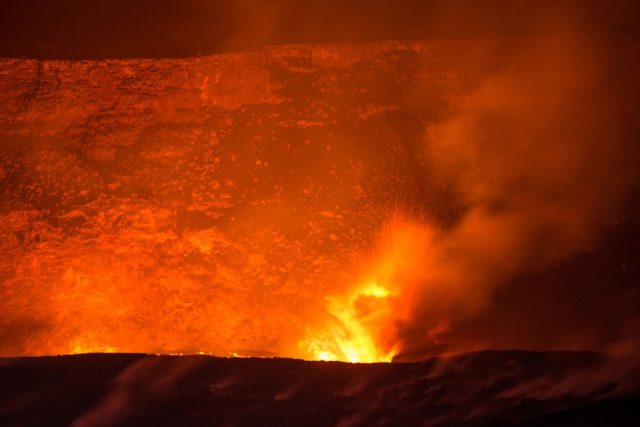 If you are either relocating or visiting Hawaii, you should without a doubt be add visiting Hawaii's National Parks to your itinerary list. Hawaii's National Parks are full of culture, picturesque landscapes, and unforgettable rainforests, wildlife, and history. There are several of Hawaii's National Parks that offer a variety of experiences and adventures, but why not start with visiting a park that is home to two special volcanoes- one being active and the other being the largest volcano on earth.  
Hawaii Volcanoes National Park on the Island of Hawaii
Located just 45 miles southwest of Hilo, Hawaii Volcanoes National Park is home to some of nature's most awe- inspiring wonders. There are two volcanoes, Maunaloa and Kilauea, both located in Hawaii Volcanoes National Park. Since there is a chance you could witness an eruption, the active volcano, Kilauea, is one of the most popular visitor attractions in Hawaii. In addition to the active volcano, the park spans for 333,000 acres. Adventures at the park include hiking through volcanic craters, deserts, rainforests, and a walk through a lava tube, or less adventurous activities such as visiting museums and petroglyphs.
Kilauea has been erupting since January 1983 and has had its last eruption as recent as May 3, 2018 after the island experienced a 5.0 magnitude earthquake. It is often known as "the world's only drive- in volcano." Each day the volcano produces 250,000- 650,000 cubic yards of lava, which is why it is so popular to visitors. Visitors pack together to witness to Kulauea's lava flow that flows into the sea.
Maunaloa is considered the largest subaerial volcano both in mass and volume. It's last eruption took place in 1984, which lasted for three weeks and injured 2,000 people . Many viewing routes have been built to give visitors an easier viewing access.
So while in Hawaii, be sure to visit these two famous sister volcanoes.