Jump to section:
Car battery 101
Hawaii's weather and how it affects your battery
Advice for getting the most out of your battery
Conclusion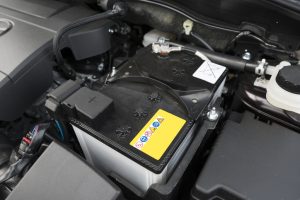 Car battery 101
Your car's battery is crucial to your engine's function. If your battery is not working properly, your car will not run correctly. There are a few things that you need to keep in mind in order to keep your battery working the way it needs to be.
About once a month, you should get under the hood and clean any dirt and oxidation from the battery. You will find that most of the corrosion occurs near the battery nodules. So, in order to properly clean them you will need to remove the battery clamps temporarily. Doing this will ensure that the charge remains strong.
You should also ensure that the battery connection is secured properly. If it is not, the battery could become disconnected as you are driving which would shut the car off suddenly. This can be extremely dangerous because it puts you at high risk of getting into an accident.

Hawaii's weather and how it affects your battery
Both high temperatures and low temperatures can negatively affect a car battery. In the case of Hawaii, it will obviously be high temperatures affecting your car's battery. Higher temperatures can both cause internal liquids to evaporate as well as corrode vital internal parts of the battery.
Both of these things will cause the battery's charge to weaken and for the battery to stop working much faster than normal.
You can prevent Hawaii's high temperatures from affecting your battery this way by doing whatever you can in order to keep the car's internal engine temperature down. The easiest way you can do this is by keeping your car in a garage when you are not using it. Keeping it in the shade or covered will also suffice.
You should also get your car's engine checked by a mechanic. This way things such as possible leaks or faulty parts will not contribute to a rising temperature in your engine for very long.

Advice for getting the most out of your battery
If you want to make sure that your battery remains performing at its highest level, you can take the following steps:
Get your engine serviced – You should take your car into the mechanic at least twice a year. If there is something wrong with your battery, they will spot it whereas you might not.
Keep it clean – Be sure to wipe the battery clean of any corrosion or dirt. If you do not, the battery could be giving off a weaker charge than normal.
Make sure it is secure – As we mentioned earlier, having lose battery connections is a danger that you do not want to risk. Check your battery's connections at least once a month.
Keep it cool – Do whatever you can to keep your battery from getting too hot in Hawaii. This includes keeping the car in a garage or shade as well as not pushing the engine too hard when you are driving.
Conclusion
Your car's battery must be in good functioning condition in order for your car to run. One of the primary ways that something could cause your battery to stop working would be if it gets too hot which is a distinct possibility in Hawaii. Regardless, you should do whatever it takes for you to ensure that your battery is working at its highest level at all times.