Jump to section:
The speeds that you should drive in each lane of traffic
On-ramp and off-ramp speeds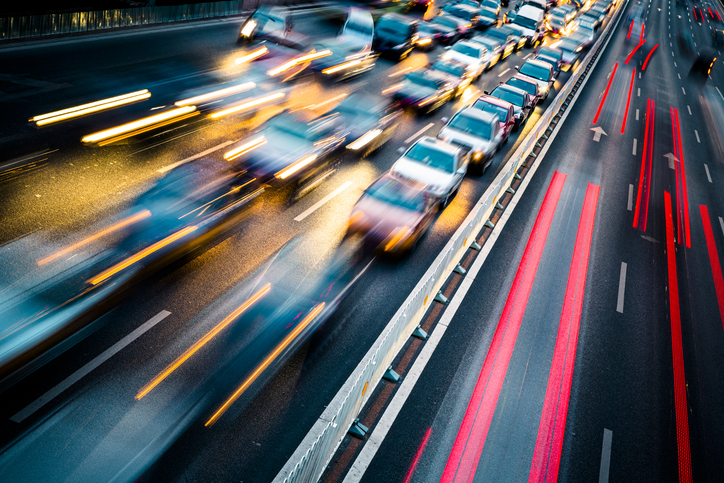 The speeds that you should drive in each lane of traffic
The leftmost lane on a multi-lane highway is generally used for passing and driving at high speeds, while the right lanes are intended for slower traffic, merging, and exiting. In Hawaii, this is no different. It is critical to maintain a speed that is consistent with the traffic flow of the lane you are in. If you drive too slowly in the left lane, you may cause a slowdown and create a traffic jam and/or a dangerous situation for other drivers who are trying to pass you. However, if you drive too fast in the right lane, you may endanger other drivers who are entering or exiting the highway or may not have enough time to react to an instantaneous change in overall traffic speed.
When driving in the furthest left lane, you should drive at a speed that is higher than the traffic flow in the other lanes. When driving in the rightmost lane, you should lower your speed to accommodate slower-moving traffic or to get ready for an exit leading to a road with much slower moving traffic.
It is also vital to remember that weather, road conditions, and the amount of traffic can affect the appropriate speed for any lane. For example, during inclement weather such as when it is raining, all drivers may need to reduce speed in all lanes to ensure safe driving.

On-ramp and off-ramp speeds
The speed at which you accelerate to on on-ramps and decelerate to on off-ramps is extremely important for safe driving and not impeding traffic. When joining traffic on a highway from an on-ramp, it is critical to increase your speed to match the traffic already on that highway. Typically, the posted speed limit on an on-ramp is lower than that of the highway, so you will need to accelerate and merge into the flow of traffic. Always use your signals, check your blind spots, and be aware of other drivers around you when merging onto the highway. Driving too slowly or too quickly can cause delays or create dangerous situations.
When leaving the highway on an off-ramp, you must start slowing down and reducing your speed as soon as you get close to the off-ramp. Do not wait until you are on the off-ramp to do this. You should lower your speed to the posted limit on the off-ramp and be ready to come to a complete stop at any stop signs or traffic lights at the end of the ramp. Always remember to use your signals and be aware of other drivers around you when exiting the highway. Not slowing down enough can result in loss of control or a collision with other vehicles.