Jump to section:
The potential for a flat tire in Hawaii
How you can fix your flat tire in Hawaii
Final Word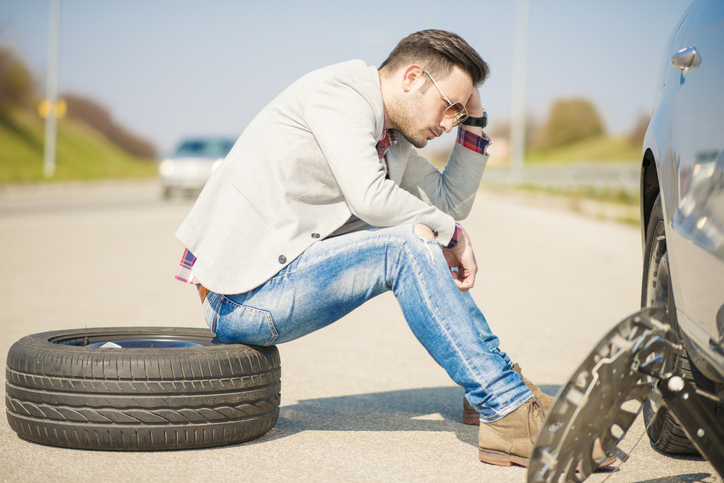 The potential for a flat tire in Hawaii
The potential for a flat tire exists no matter where you go. However, in areas such as Hawaii where the roads can be rough in certain spots, that potential is considerably higher. The roads in Hawaii have a higher number of cracks and potholes than they do in most other states. That is because of fairly frequent and sudden bursts of rain that occur throughout the year across the state.
This can sometimes lead to flash flooding. All of this precipitation can easily cause cracks and potholes. So, as much as Hawaii has been pretty vigilant, especially in recent years, in terms of fixing potholes and cracks, new ones popup pretty frequently.
Regardless of whether or not you are on a Hawaiian road that has potholes, you should always know how to change a flat tire just in case you ever need to. Hawaii, like most places, has some more remote locations where help is quite a distance away and cell service will be at a minimum. Thus, you should not have to rely on someone else to change your tire for you.

How you can fix your flat tire in Hawaii
Once you have the hang of it, fixing your own flat tire will be pretty simple. However, doing so for the first time can definitely seem intimidating. Also, keep in mind that the process will differ at least slightly for different types of vehicles so, be sure that you always have your owner's manual handy.
The first thing that you should do if you have a flat is to find a safe place to pull over and check it out. If you have access to a roadside assistance program such as AAA, you should try to take advantage of it in this situation because doing so will take all the work out of it for you. If not, you will likely need to change your own tire. In order to do so you will need a few things including a spare tire or at least a donut, a jack, a lug wrench, a wheel lock, alignment studs and wheel wedges.
Next, you should employ the parking brake and put the wheel wedges beneath the other tires of the car to make sure that it does not start moving as you are repairing the flat tire. After this you can take off the hubcap.
After that you should undo up the lug nuts and then you should securely put the jack under the car. You can then elevate the car using the jack. Once you have completed this, you should take off the lug nuts entirely and then remove the flat.
After that has been completed you can put the spare tire or donut onto the lug bolts. Then you must place the lug nuts back on and tighten them up. You then can incrementally drop the car by using the jack again. Once that is completed, check the lug nuts to be sure that they are totally tight. Finally, put the hubcap back in place.

Final Word
In Hawaii, because of the conditions of some of the roads, there is a higher possibility of getting a flat. For this reason, you really should know what you are doing when it comes to changing your tire. Be sure that you get your tires changed and/or rotated when the time comes and always check your tire pressure on a regular basis.