Jump to section:
Hawaii camping 101
Hawaii camping by island
Tips for camping in Hawaii
Conclusion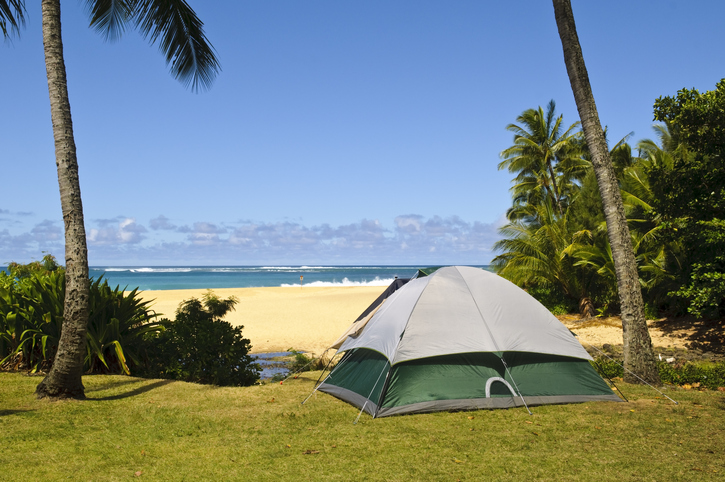 Hawaii camping 101
Put simply, Hawaii is paradise. So, it should come as no surprise that it is also one of the best places in the world to go camping.
The weather is usually as close to perfect as you can get with average temperatures generally ranging between 78 and 85 degrees Fahrenheit all year long. Now, if you are higher on a mountain, temperatures could be a bit lower. Rainfall is what you would expect for the climate but most of the rain tends to fall during the winter months, so we recommend camping in Hawaii over the summer.
Now, you cannot always camp in or directly with your car in Hawaii. However, you can always drive to a particular campsite with your car and then walk to your desired area.
Whenever you camp in Hawaii, or anywhere for that matter, you need to take the time and effort to plan your camping trip. This will include getting and required permits prior to your camping trip. In Hawaii, you can get your permits online here.
Once you have your permits, you should make a list of all the things you need for camping and head to the store. Your list should include a tent, emergency first aid kit & supplies, less perishable food items such as protein bars, flashlights, batteries, sleeping bags, pillows, foldable chairs, bug repellent, binoculars, a cell phone, and more. You can read a complete list right here.
Next, you should plan the dates of your camping trip. Generally, try to plan your trip so that you have some flexibility and can keep your eye on the forecast. For the most part, the weather in Hawaii stays very ideal. However, you can never be certain.
Finally, you should plan your trip there and back. If you are going during the week, try to avoid travelling during rush hour in Hawaii. Also, you need to figure out where you can and cannot take your car before you go. You can always go online to figure this out.

Hawaii camping by island
Not all spots that you can go camping in Hawaii are created equal. Here are the best spots to go camping in Hawaii with your car broken up by island:
Maui

Haleakala Backcountry – This Maui camping spot has a moon-like terrain for a totally different sort of camping experience. It also has two main camp sites. Hiking here is a bit more for those of intermediate experience.
Waianapanapa State Park – This is one of the most beautiful places that you can go camping in the entire world. This includes some incredible views of the coastline. This is also one of the more popular campgrounds so be sure to reserve your spot early.
Kipahulu Campground – Kipahulu has some of the best camping hiking in the entire state of Hawaii. You will also not have a hard time getting a spot here because most people choose not to travel this far for camping.

Kauai

Salt Pond Beach Park – This camp site is actually one of the better spots in all of Hawaii to go snorkeling. It also has some of the best amenities of any campsite in Hawaii. It is, however, a popular spot, so make your reservations early.
Polihale State Park – This camp area is famous for the incredible and secluded beaches it has. It is also a great spot to go fishing so be sure that you bring your gear with you. The drive to the campsite has a bit of a rough terrain, so try and drive there with a Jeep or some sort of 4X4.
Lydgate Park – This is one of the most popular campsites in the state. So, plan on getting there nice and early and not leaving until late. This is another great place for snorkeling, especially for beginners because the waters are so calm.

Hawaii (Big Island)

Waimanu Valley – Waimanu Valley is the best spot for camping on the Big Island of Hawaii because of the incredible views of the valleys that you will get. If you are not big into fitness and/or hiking, this may not be the campsite for you because it requires an almost 8-mile hike to reach the camping area.

Moloka'i

Papohaku Beach Park – This campsite is known for how secluded it is. That it is because it is primarily a beach, but the waters are too dangerous most of the time for swimming and surfing, especially without any lifeguards on duty. This is a great spot to enjoy some serene views while getting some peace and quiet.

Oahu

Bellows Field Beach Park – A popular spot on Oahu with fifty spots for camping, Bellows Field Beach is a great place to spend time at the beach and see the sun rise. Camping is allowed on the weekend only.
Tips for camping in Hawaii
Before you head out to go camping in Hawaii you should read the following tips:
Try to go during the week – It should not come as a surprise that campsites are always busier during the weekends, especially in the summer months. So, try to go camping during the week.
Practice getting your tent up before you actually go camping – Pitching your tent can be a lot more of a hassle than you think. So, make sure you have the know-how before you even leave for your camping trip by practicing at home first. If you have trouble you can go on a site like YouTube to find tutorials.
See what the camp's amenities are prior to your trip – The vast majority of camping sites will have several amenities including bathrooms, showers, grills, and more. You can check out what an individual campsite has before you go by checking online.
Bring trash bags and leave no trace – This is one of the most important rules of camping to respect. You must leave your campsite as you found it. This means throw your trash out and do not leave any supplies behind.
Bring extra socks – You might be shocked at how easily your socks can get wet and or dirty when you are camping. So, if you are camping for three days, bring at least six pairs of socks with you.
Conclusion
Taking a camping trip in Hawaii is an experience that you definitely will not want to skip. The weather is almost always gorgeous, and the outdoors are incredible on any one of the islands. Take your time and plan your trip with care because you do not want to get stuck without necessary supplies or trekking to a campsite only to find out that it is full.