Jump to section:
What the weather is like in Hawaii
What driving is like in Hawaii
Tips for driving in the rain in Hawaii
Final word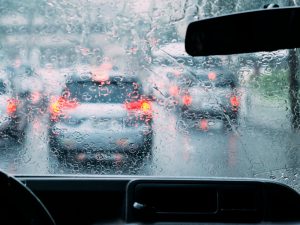 What the weather is like in Hawaii
The weather usually varies in Hawaii depending on where you are. It ranges from desert-like climates to beautiful tropical climates. In between, you have certain areas that get hundreds of inches of rain per year. As an overall average, the entire state of Hawaii normally gets less than twenty inches of rain per year. So, overall, Hawaii does get much less rain than a lot of states.
However, there are areas that average much more rain than that as we just mentioned. These areas include Kaneohe, Hana, Kilauea, Hawaii Volcanoes Park and Hilo. These areas all average over two hundred days of rain per year and some average over a hundred inches of rain per year. So, you can see that the heavy rainfall in Hawaii is concentrated in several small areas.

What driving is like in Hawaii
Driving in Hawaii is much slower paced and relaxed than it is in most other places in the United States. This can be pleasant for some while it can be frustrating for others. Drivers in Hawaii often do not drive over the speed limit and they also do not exhibit much "road rage" if any at all. In fact, drivers in Hawaii really only use their horns to say "hello" to someone or to acknowledge someone, they do not use horns to say "get out of the way" or "speed up."
As you might expect, this laid-back style of driving becomes even slower moving when there is inclement weather just as traffic does in any other part of the country. For safety's sake, this is a good thing. For the sake of getting somewhere in an efficient amount of time, it hurts a bit.

Tips for driving in the rain in Hawaii
Driving in the rain in Hawaii requires focus and safety, just as it would anywhere else. However, it is also a little bit different than most other places at the same time. Use the following tips to be able to drive safely in the rain in Hawaii:
Always check your weather before you head out on the road – Knowing what you are getting yourself into will help you plan the route you take and minimize overall travel time.
Give yourself some extra time – If you know that there is a chance of rain in the forecast, you should give yourself some extra time for your commute. If you do this, the worst thing that could happen is that you end up arriving at your destination a bit early. In Hawaii, driving through the rain can easily take longer than it does in most other places.
Keep some extra distance between you and the car in front of you – In case you need to stop short in the rain, you might end up in a skid. With this possibility in mind, you should give yourself some extra distance between you and the car in front of you.
Try and avoid hitting and big puddles or standing areas of water – Driving through areas of standing water can cause you to hydroplane and lose control of your car. If possible, try to avoid driving through large spots of water.
De-fog the windows – Keeping the fog off of the windows is important so that you can safely see the road. When you get in your car and it is raining, the windows will likely fog up due to the increased levels of moisture in the air.
Final word
For the most part, you likely will not end up seeing much precipitation in Hawaii. However, some areas end up getting much more rain than others in Hawaii. So, if you end up needing to drive through these areas, you should be ready to drive through some rain. This also means being ready for your drive to move along at an even slower pace than normal. If you are moving to Hawaii or taking a long trip there you always have the option of shipping your car there, so call us today at (808) 445-6695!