Jump to:
Basics about shipping your motorcycle
Preparation for shipping a motorcycle
Tips and advice for shipping your motorcycle to Hawaii
Conclusion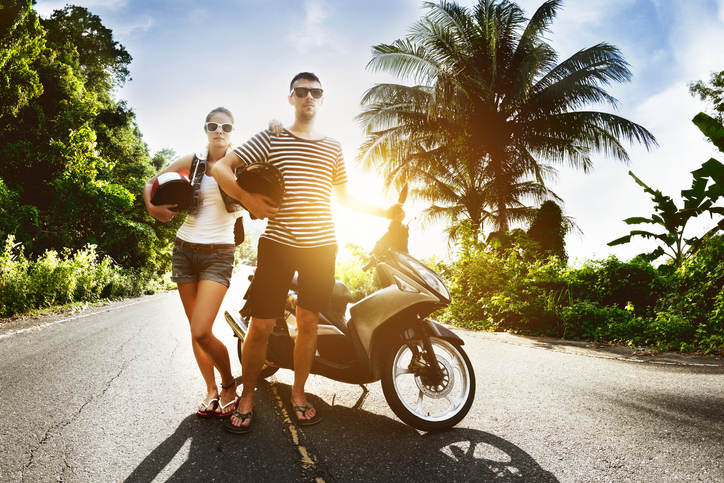 Basics about shipping your motorcycle
When you move to Hawaii, you have three options regarding your motorcycle: sell it, store it or ship it. If you want your motorcycle with you, you only have one option – to ship it.
This might seem intimidating at first because for most people motorcycles are like classic cars, they are a valuable with more sentimentality than any old car that you drive to and from work.
Fortunately, you can ship a motorcycle much the same way that you can ship a car. This includes upgraded shipping options to help ensure the complete safety of your bike during transport.
Shipping a motorcycle to Hawaii obviously takes longer than if you were shipping to somewhere within the continental United States. However, if you prepare for your shipment ahead of time, you will be able to easily work out the details of being without your bike for a week or two while it ships to Hawaii.

Preparation for shipping a motorcycle
Preparing to ship your motorcycle is a little different than preparing to ship a car but, for the most part, it is pretty similar. You will still need to give yourself time to plan your shipment and to get your motorcycle ready to be picked up. But there are a few details that will be different.
For example, you won't have the option of open-air transport. Motorcycles can only be shipped in an enclosed carrier because they cannot be properly secured to a regular auto carrier. They also must be shipped on a pallet or skid. These things will prevent your bike from rolling during transport.
Right before your driver arrives, make sure your motorcycle is in neutral. Your driver will literally walk the bike onto the carrier. This is unlike regular auto shipping where the pickup driver drives the vehicle on.
The rest of the preparation for shipping your bike will be the same as regular auto transport preparation. You should make sure that your motorcycle is clean. Remove any personal items including motorcycle accessories and alarms. Make sure that the tires have the right pressure levels and that there are not any fluid leaks.

Tips and advice for shipping your motorcycle to Hawaii
Shipping your motorcycle is easy with a company full of vehicle transport experts like Hawaii Car Transport. However, you should read these tips before you ship your bike to or from Hawaii:
Plan ahead – You should try to book your motorcycle shipment at least a month in advanced. You can still book your shipment with less notice but, as a result, your shipment might end up taking longer and/or costing slightly more due to a lower carrier availability.
Take pictures with timestamps – Motorcycles are always shipped in enclosed carrier on a pallet, so the chance of damage occurring is extremely rare – even more rare than regular auto shipping. However, on the off chance that your bike does get damaged during shipping you should take pictures with timestamps on them before your bike is picked up. This way, you have indisputable proof of the bike's condition prior to shipping.
Make arrangements so you can be there for drop-off – It will make things a lot easier and convenient if you can be there for the drop-off of your motorcycle. Plan out your trip or move so that you can be the one who picks up the motorcycle at the port in Hawaii.
Make sure the bike itself is ready to ship – You will also need to prepare the motorcycle itself. This includes cleaning it, removing any personal items and make sure that it is in working order.
Conclusion
Shipping your motorcycle to Hawaii is just as simple as shipping a car to Hawaii. You will just need to get ready for your shipment by planning it at least a few weeks in advanced and by doing what needs to be done in order for your bike to be ready to ship.
If you want to ship your motorcycle to or from Hawaii or have any questions about the process, give us a call today and talk to one of our dedicated shipping experts at 808-445-6695!