Jump to:
Why was Haena State Park closed for a year?
What is there to do and see at Haena State Park?
How can I get there by car?
Final word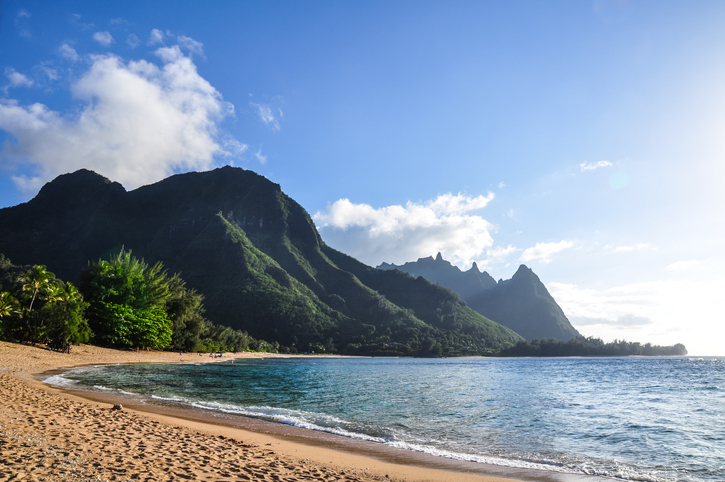 Why was Haena State Park closed for a year?
Last year, a massive amount of rain led to a large amount of flooding in Haena State Park. It was because of this that the park closed down for about fourteen months.
Some of the damage that occurred during the storm included damage to bridges, comfort stations, waterlines and lifeguard stands. Considerable sections of the beach had also been washed away.
Repairs started on all of this damage a couple months after it occurred which brings the total repair time to just about one year. The total repairs ended up costing several million dollars before it was all said and done.
Thankfully, the repairs have been completed and the park is now back open for visitors.
However, the park is now only admitting 900 visitors per day now as opposed to 3,000 a day before the flooding had occurred. So, be sure make your reservations early. Potential visitors are actually allowed to make reservations up to two weeks in advanced. You can make a reservation here.
You should also be aware that as this post is being written, local residents are attempting to block the roads into the park each day to block tourists from entering. Police are on top of the situation now and making sure that everyone can use the roads as they need to but expect some delays as a result. The locals are doing this because they feel that tourists are bad for the area and that the area functioned much better for the last year without them.

What is there to do and see at Haena State Park?
Haena State Park is a great place to spend a day in Hawaii. It is most famous for its trails, beaches, and ancient historical sites. Here are some of the best reasons to take a trip to Haena State Park:
Hāʻena Beach – One of the less busy beaches in Hawaii due to the current restrictions on visitors, Haena Beach is a great place to spend the day with the family. The beach features good swimming conditions, as well as snorkeling and surfing. It also has some nice family friendly facilities.

Kēʻē Beach – Kee Beach is likely most famous for its incredible snorkeling with views of the coral reef but just spending a normal day at the beach here is quite an experience as well. Overall, the water is pretty shallow and there is usually a lifeguard on duty.
Kalalau Trail – The Kalalau Trail is an extremely well-liked trail among Hawaii Hikers. It is eleven miles long and has no lack of incredible scenery to take in while you traverse it. Valleys, cliffs, waterfalls, interesting wildlife and the sea represent the main sight-seeing highlights. This is easily one of the most popular reasons to visit Haena State Park.
Maniniholo Dry Cave – A quick stop on your trip through Haena State Park but one you will want to make, the Maniniholo Dry Cave is another great photo opportunity and a source of wonder and excitement for the kids.
Makana Mountain – Less of something to do but certainly something to see, Makana Mountain is one of the more awe-inspiring sights in all of Hawaii. Don't forget your camera when you come out to Haena State Park because you will definitely want to snap a few pictures of Makana.
How can I get there by car?
Haena State Park is actually pretty easy to get to by car. You just need to take HI-50 E. Then you take HI-56 N to HI-560 W. Follow the signs from that point to Haena State Park. You can take a shuttle but now that there are considerably less visitors and an overflow parking lot has been built; we recommend that you drive.
If you do drive your car there, the fees for the park are as follows:
Entrance fees:

Hawaii residents: Free with valid ID
Non-Hawaii residents: $1

Parking fees:

Hawaii residents: Free with valid ID
Non-Hawaii residents: $5
Final word
Haena State Park is likely the best attraction on the island of Kauai and it is now open to visitors once again. This is a golden opportunity to get out and enjoy some of the best hiking and beaches that Hawaii has to offer. Remember, you will need to make your reservations in advanced in order to be able to enter the park.
Also, do not forget that being able to drive and park there yourself is the most convenient and efficient option you will have as far as getting to the park. In order to do that, you will obviously need a car of your own. If you own a car and it is stuck back on the mainland United States, you should consider letting us give you a hand getting your car to Hawaii.