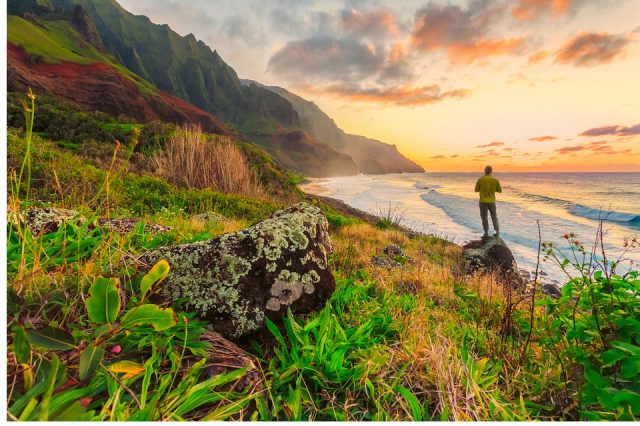 Hawaii is iconic for its picturesque views. The beaches, mountains, volcanoes, and waterfalls are breathtakingly beautiful. But where to start and what to do? There are some definitely must dos in Hawaii that you want to be sure to not miss. The best part of sightseeing in Hawaii is that you can do it by land, sea, or air.
The Island of Kauai
Did you know that the filming of Jurassic Park took place on Kauai? Nicknamed "the Garden Isle" because of the many tropical rainforests, Kauai is the oldest of the main Hawaiian islands. You can explore this island by foot, helicopter or boat. If you are traveling by foot, you can hike the 22 mile trail that is considered to be the state's best backpacking route. If you are traveling by air, you will get an appreciation for the waterfalls and landscape. If you are traveling by sea, take advantage of the aquatic wonders by snorkeling and diving into sea caves. Wildlife includes dolphins and green sea turtles.
Haleakala Sunrise and Sunset
Of course on the list of Must Dos for Hawaii is experiencing the sunrise and sunsets. Why not experience the breathtaking and memorable views from a dormant volcano? Haleakala is almost 10,000 feet above sea level and located on the island of Maui. It is important to keep in mind that it more popular to view the sunset rather than the sunset. If you are considering to check off the Haleakala Sunrise and Sunset off Must Dos in Hawaii list, then you need to know that reservations are required. You can make your reservations up to 60 days in advanced with the Haleakala National Park.
Waikiki
Next up on the Must Dos for Hawaii is Waikiki, located on the south shore of Honolulu. Waikiki is known for its beaches, world- class shopping, dining, entertainment, and resorts. Beaches stretch out for blocks, and you will be provided with multiple opportunities for water activities such as surfing and canoeing. If you're not into the water activities, you can visit the Honolulu Zoo and Waikiki Aquarium, which is fun for the whole family. Best of all, Waikiki is only about a half hour away from Pearl Harbor.
So, let us worry about shipping your car to Hawaii, and you worry about which Must Dos in Hawaii activity  you are going to cross off your list first.