Jump to:
Driving in Hawaii
Buying a car in Hawaii
Renting a car in Hawaii
Shipping a car to Hawaii
Conclusion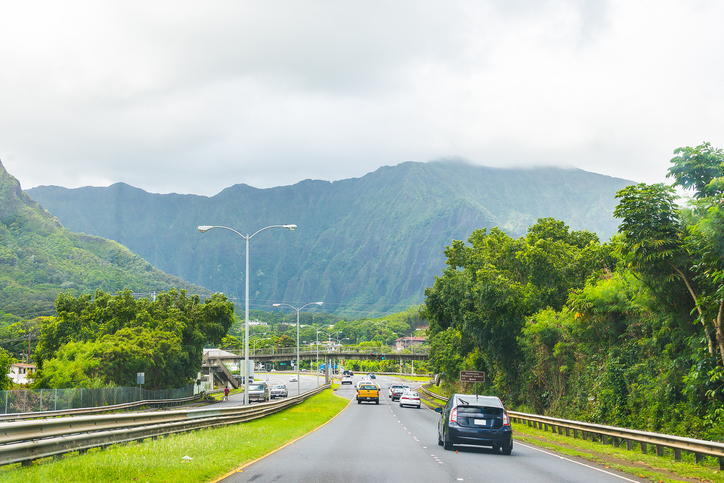 Driving in Hawaii
Driving in Hawaii can be a great experience. At other times it can also be extremely frustrating. However, having the ability to get around is a necessity. So, one thing is clear – you or someone in your family needs to have a car for you to be able to get around.
If you are driving in Hawaii during rush hour, it can be a difficult experience because the conditions of the roads are not great, but they are slowly improving. However, the traffic patterns have long been a primary source of contention for motorists in Hawaii.
With that in mind, driving in Hawaii can also be a really pleasant experience if you drive outside of those rush hour times. It is a great way to see all the sights as well as the most convenient way of getting around in Hawaii.
But the question is, should you buy a car, rent a car or ship your car to Hawaii?

Buying a car in Hawaii
Buying a car in Hawaii is obviously the most expensive option you have by a long shot. It would also mean that you would need to get rid of or store the car that you have on the mainland which can be a complicated experience.
You will also need to go make the decision to lease the car or buy it outright. There is also the choice of buying a brand-new car or buying a used car. All of this can take weeks or even months to sift through. Choosing this option would also include the most obstacles to finally getting your car on the road after you purchase it.

Renting a car in Hawaii
For a very short stay, this is a viable option. However, if your stay in Hawaii is longer than a few days this option can really start to add up quite quickly. Renting a car for a month can easily run over a thousand dollars.
With this option, you avoid putting wear and tear on your own car. But, what's the point of having a car if you are concerned that regular driving will put too much wear and tear on your car? You might as well not drive the car at all with that mentality.
You also need to worry about any sort of damage that occurs to the car. Often, through some sort of loophole or hidden clause, rental car insurance can fail to cover you in case you have some sort of an accident. The rental insurance might cover you partially but there is a good chance it won't cover you completely. Plus, you will get charged for any little ding or scratch and it will be the highest amount the rental can justify as well.
Shipping a car to Hawaii
Shipping a car to Hawaii is likely your best option if you are staying there for longer than just a few days and do not want to spend the money on buying a car or renting a car long-term. This way you can also have piece of mind knowing that the car you are driving is your own and you will be much more familiar with the ins and outs of the insurance policy on the car as well.
You also won't have any restrictions on how you drive your car. Often with rentals and leases you will be limited to some extent in how you can drive. For example, rental companies often forbid drivers from driving off-road with their vehicles.

Conclusion
Depending on your situation, one of these options might be better than the others. In many cases you should consider shipping your current car to Hawaii before you consider buying a new car or renting a car. It will help you save money in the long-run and it will give you the freedom of having your own vehicle with you in Hawaii.
You can always call the experts at Hawaii Car Transport to get a free quote today at (808) 445-6695.