Jump to section:
Terrestrial radio
Satellite radio
Other forms of in-car entertainment in Hawaii
Conclusion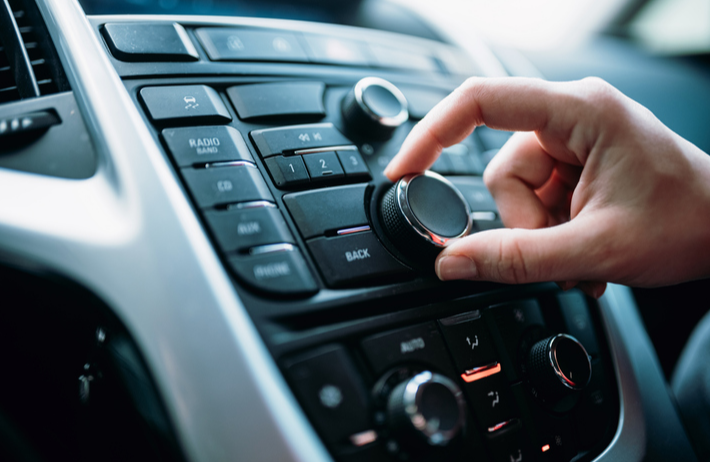 Terrestrial radio
As with anywhere else in the country Hawaii has many terrestrial radio stations available. This includes both FM and AM frequencies. These stations broadcast a variety of programming including news, talk, music and more.
The FM stations tend to play music from a variety of genres including dance, top 40, rock, hip-hop, reggae and more. The AM stations tend to focus more on news and talk.
Both AM and FM radio are free so long as you have a functioning radio in your car. Because it is free, it has a high number of programming interruptions for advertising. The sound quality of FM is usually pretty good while the quality of AM radio tends to be low.
Some popular FM stations in Hawaii include: 92.3 KSSK which is variety, 102.7 KDDB which is hits, 101.1 KORL-FM which is oldies, and 93.5 KPOA which is Hawaiian music.

Satellite radio
Satellite radio is much different than typical terrestrial radio. Some of the primary differences include the fact that you must pay a monthly subscription fee, you must have a separate device installed in order to listen, the sound quality is considerably higher and there are extremely few to no advertisements.
SiriusXM is, by far, the biggest provider of satellite radio in the country. SiriusXM could even be described as a monopoly because of how much of the market they hold. However, they offer hundreds of channels of programming with an exceptionally high variety. Right now, it costs $10.99 per month for the basic package which is music only. Pricing ranges up to $21.99 per month for access to all music, entertainment and talk channels.
Unfortunately, in Hawaii, Sirius XM is only available for streaming on your mobile device for the time being. However, you can always connect your phone to your car's speakers using a simple auxiliary hook up.

Other forms of in-car entertainment in Hawaii
There are several other forms of in-car entertainment available in Hawaii. They are as follows:
Streaming services – Just as you can use your phone to stream SiriusXM in your car in Hawaii, you can do the same for several music streaming services such as Pandora or Spotify. These music streaming services are now SiriusXMs top competitors.
Television – This is obviously only for your passengers only. However, it can be useful if you have children how tend to become a distraction when they are in your car. Whether or not you can have TVs installed in your vehicle depends on the model and year of the car.
CD players – Some cars still have CD players and some still have the ability to have them installed. You can find out if your car can have one installed by calling a business that does car customizations such as Best Buy. You can also connect certain types of portable CD players to your car's stereo through an auxiliary device as well. –
Conclusion
In Hawaii, you have a bunch of options in terms of in-car entertainment. These options range from regular, radio, to satellite radio, to streaming services. It is obviously up to you and the type of car that you have. The important thing to remember is that you should always concentrate on the road at all times and never let yourself get distracted by any form of in-car entertainment.