Jump to section:
Getting your car to Oahu
Parking, traffic and gas in Oahu
What you can see with your car in Oahu
Conclusion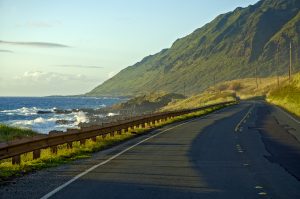 Getting your car to Oahu
If you are on your way to Oahu and you plan on taking your car with you, your only option will be to ship it there. Shipping your car to Oahu is as simple as getting a quote for your car shipping company, booking your shipment/scheduling your pickup and delivery, and preparing for your pickup.
In terms of shipping a car specifically to Oahu, you can have your car picked up at your door anywhere in the continental United States. After that, it will be shipped on an auto carrier truck to a US port where it will be loaded onto a ship where it will be shipped to the port in Oahu.
It is there that you will pick up the car. You will be notified when your car arrives at the Oahu port. You will then have a few days to pick it up before you start getting charged storage fees.

Parking, traffic and gas in Oahu
Once you have your car in Oahu, you will need to know where you can park, how you can avoid getting stuck in traffic and what gas is going to cost you. Parking can be difficult in certain areas of Oahu especially during certain times.
You will have the most difficulty finding parking in an area such as Honolulu because of the high population. Your best bet to find parking in Honolulu is to pay for parking either in a lot or by meter. There is free parking available but those lots are small and fill up quickly.
It is no coincidence that the most traffic also happens to be in and around the Honolulu area as well. In particular, Honolulu's traffic is worst at rush hour. This is pretty similar to the rest of the country but a bit earlier. Rush hour in Honolulu usually falls around 8 in the morning and 4 in the afternoon. So, if you are driving in Honolulu during the week, we recommend leaving before 7 AM or after 5 PM. Otherwise, at other times and in other places on Honolulu traffic usually will not be too bad.
Finally, you will need to know how much gas will impact your budget in Hawaii. Unfortunately, Hawaii consistently has some of the highest gas prices in the country. More often than not it is the highest in the country. However, it only averages out to a little under three dollars a gallon. So, regardless if it is the highest in the country or not, it will not break the bank for you when you are fueling your car in Oahu.

What you can see with your car in Oahu
Oahu is one of the best places on the planet to go sight-seeing. So, once you are there take the chance to see the following:
Diamond Head
Hanauma Bay
Kualoa Ranch
Manoa Falls
Conclusion
Getting your car to Oahu is easy, all you need to do is ship it there. After that, parking and traffic might not be the best in Honolulu and gas prices will be pretty high by comparison to anywhere else in the US. However, these are extremely small prices to pay for the wonderful life you will have and the sights that you will see in Oahu.
If you choose to bring your car to Oahu, you can do so with ease by calling us today for a free quote at (808) 445-6695.