Jump to section:
The first cars in Hawaii
The evolution of cars in Hawaii
Cars in Hawaii today
Final word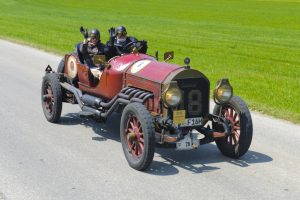 The first cars in Hawaii
Hawaii saw its very first cars in 1899. This is only three years after the very first car appeared in the country. The car in Hawaii was called a Locomobile. A Locomobile is a type of early automobile that looks just like a horseless carriage.
The Model T did not reach Hawaii until 1905. This was for two reasons. Ford Motor Co. did not start until 1903 and then it took two years for the cars to reach Hawaii.

The evolution of cars in Hawaii
Just as cars in Hawaii followed the trend of the rest of the country with the dawn of cars, it did so with the continual evolution of cars. For years, the types of cars that you would see in Hawaii were a bit behind the rest of the country due to the lack of shipping and manufacturer of different types of cars in Hawaii. However, by the 1950's larger freight capacity become more readily available for air and sea.
Thus, many more types of cars became available in Hawaii at this point. Since then, Hawaii has kept up with the rest of the country and the world with the evolution of automobiles.

Cars in Hawaii today
Cars in Hawaii today are still as numerous and have as much variety as anywhere else in the world. For example, the growing trend of electric vehicles is as popular in Hawaii as it is anywhere else in the country. In fact, as recently as 2017 Hawaii had the second highest rate of electric vehicles per one thousand residents behind only California.
According to recent data, since 1995, the total combined miles driven on the island of Oahu in Hawaii has risen from just over 5 billion miles to just over 7 billion miles. During the same time, there was a thirty one percent increase in the number of registered vehicles in Hawaii as well.
The increase in automobiles in Hawaii over the years has led to noticeable amounts of traffic as well as heavy amounts of road depreciation resulting in high increases in imperfections such as potholes.

Final word
The hundred and twenty year history and evolution of cars in Hawaii is full of growth. This has been both good and bad for the state. Hawaii now has the same access to cars and variety of cars as the rest of the world. However, this has also caused considerable increases in the depreciation of the condition of roads as well as overall traffic.
If you already have a car but it is not in Hawaii, your only option will be to ship it there. If that is what you end up choosing to do, Hawaii Car Transport can get your car to any island with ease. You can book your shipment today by visiting our website or by calling (808) 445-6695.