Jump to section:
The cost of gas in Hawaii
Why fuel economy in is important in Hawaii
Advice for using less gas
Conclusion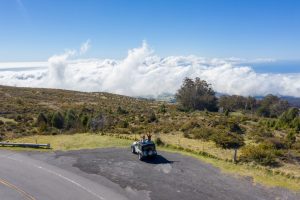 The cost of gas in Hawaii
The cost of gas in Hawaii is constantly among the nations highest. In fact, it is usually has the single highest average gas prices in the country. At the beginning of April 2020, when this was being written, Hawaii had the highest gas prices in the country at $3.34 when the national average was $1.97.

Why fuel economy is important in Hawaii
Fuel economy is essentially how efficiently your particular vehicle uses gas. This is obviously different for every type of car. Typically, larger cars like Hummers are called "gas guzzlers" because their fuel economy is very poor. This is due to the fact that in order to move such large cars, the engines need to work harder, hence they use more gas.
Electric cars have the best fuel economy by a long shot because they use a combination of gas and electricity to power the engine. Thus, gas is used at a much slower rate.
In general, a great fuel economy is between thirty and forty miles per gallon. Whereas a bad fuel economy would be less than twenty miles per gallon. However, Electric vehicles tend to have fuel economies over a hundred miles per gallon. But these cars are very expensive to buy and will also cost you money in the cost of electricity.
If you are in the market for a new car and fuel efficiency matters to you consider cars such as the Chevrolet Spark, Mazda MX-5, or any hybrid. Try and avoid larger cars like Hummers and Escalades.
The price of gas in Hawaii fluctuates as it does anywhere else in the country. However, the price always remains much higher than average. Therefore, fuel economy is so very important in Hawaii. Also consider that traffic can be problematic in Hawaii, so, it is easy to burn through gas here. Thus, fuel economy matters.

Advice for using less gas
Whether or not you have a fuel-efficient vehicle, you can do a few simple things to help your car better conserve gas:
Keep your tires inflated properly – Simply put, the more underinflated your tires are the more mileage per gallon of gas you will lose. Be sure that your tires are inflated to the level recommended by the manufacturer.
Slow down – This should not be an issue in Hawaii because of how slowly the people in front of you tend to drive but the faster you drive the more gas you will burn. So, take it nice and easy like the other drivers in Hawaii routinely do.
Forget idling – There really is no reason to idle in Hawaii. Normally, people do it to warm up their car or to keep it warm. In Hawaii temperatures will always be either warm or hot, so idling makes no sense when you consider how much gas it wastes.
Lose the extra weight – The more a car weighs, the harder the engine will need to work, the more fuel it will burn at a faster rate. This is why larger cars like Escalades burn more fuel then smaller cars. So, if you have anything in your car that you can afford to take out, do so.
Get your car serviced – Making sure that your engine is running properly and at its top efficiency is critical to maximizing how well your car can conserve gas. Always get your car checked out by a mechanic when your check engine light comes on.
Conclusion
Fuel is almost more expensive in Hawaii than it is anywhere else in the entire United States. So, it only makes sense to try and get the most mileage out of the gas that you get. It also makes sense to do whatever you can not to waste any fuel. If you will be driving in Hawaii, consider getting a more fuel-efficient vehicle such as a hybrid.